Registration
Welcome to the TTTW3 conference. Please register your place to attend the conference via the Online Registration Portal. The conference fee is £120 for a 1.5-day programme.
‌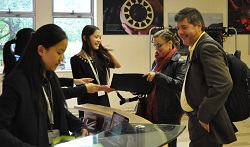 ‌
Paper presenters must complete their registration to confirm the acceptance to present their papers. The places of delegates are limited due to space limitation at the conference venue, so the registration is on a first-come-first-serve basis and may be closed when the places are full.
Using the online registration portal:
1. If it is the first time you use the online registration portal, you will need to create an account to login. Just follow the instructions on the portal web page to create your account.
2. Once you login, click on the "Book Event" button to register and make payment (credit/debit card required).
3. After filling in your details and making the payment, remember to print your order recipt, which can be in hard copy or saved as a pdf file. You will also receive a confirmation email to the email address you provided.
4. PLEASE KEEP THE RECIPT SAFE AS YOU WILL NEED IT AT THE CONFERENCE REGISTRATION DESK ON ARRIVAL.
For general enquires about the TTTW3 Conference, please send email to: tttw3.conference@newcastle.ac.uk
Top