Exhibitors
Exhibitor space will be available in the Lindisfarne Room, Hadrian centre from 9am, 10-13 September. The exhibition space will used for exhibitors and conference posters. Throughout the conference the space will also be used for refreshments and lunches 11:00 and 15:15 and 12:45 for lunches.
There will be many other opportunities for additional corporate sponsorship, such as welcome drinks on the 10 September to the conference dinner at 'The Boiler Shop' on the 12 September.
The range of sponsorship opportunities are listed below. The conference organiser is Dr Alan Jamieson School of Natural and Environmental Sciences and commercial exhibition organiser Terry Sloane will be happy to discuss any requirements that you may have.
Terry Sloane by email: terry@planet-ocean.co.uk or phone 01276 427 971
Sponsorship packages
Headline sponsor of conference (one only):
6m. exhibition stand in prime location
Prominent name and logo on conference website and abstract book acknowledging MAIN SPONSOR
leaflet in delegates bag,
Full page advert on inside front cover of abstract book
Free "Gold upgrade"
£1500
Individual sponsorship opportunities:
Sponsors of individual elements of the event will be acknowledged in the lecture theatres, abstract book, on the conference website and on posters. Those sponsors with manned exhibition stands are able to upgrade to the Gold package, where they will have the opportunity to have a 5 minute speaking slot at the start of the plenary sessions.
| | |
| --- | --- |
| Manned exhibition stand 3m x 2m | £600 |
| "Gold Upgrade" (only five slots available) | £100 |
| Co-sponsorship of conference dinner (The Boiler Shop) | £750 |
| Co-sponsorship of ice breaker reception (The Boiler House) | £700 |
| Co-sponsorship of poster session | £500 |
| Co-Sponsorship of public lecture | £500 |
| Sponsorship of keynote speaker | £550 |
| Exhibition banner unmanned | £200 |
| Brochure in delegates bag | £200 |
| 1/4 Page advert in conference handbook | £150 |
| 1/2 Page advert in conference handbook | £300 |
| One A4 leaflet in delegates bag | £100 |
Corporate society members benefit from a 15% discount
Boiler Shop Conference Dinner
Exhibitors please book your Challenger Conference Dinner tickets at this link:
https://webstore.ncl.ac.uk/product-catalogue/other-goods-payments/miscellaneous-products/the-boiler-shop-conference-dinner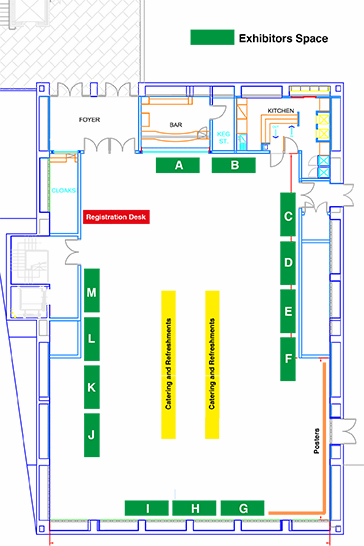 Top